Welcome To The Weekend...
A Whole 'Nuther Thing is my Saturday & Sunday Radio Program on
KCSN FM 88.5 and KSBR FM 88.5 HD2

This website is a companion to my weekly Radio program. Contained in these pages are the performers, venues and music that comprise the "Soundtrack of My Life". You will find memorabalia from the Fillmore East, Woodstock 1969, Personalities from the "Golden Age Of Radio". You will view images of the artists that painted the musical landscape I was fortunate to participate in. Additionally, I have included materials from my childhood on the Lower East Side of NYC as well as my radio career before KSBR FM. So sit down and take a trip to where "The Music Matters" while you're listening or anytime. I will try to update it on a regular basis including my Blog, "The Daily Planet".
To paraphrase Duke Ellington..."There are only 2 types of Music, Good Music and Bad Music"... I personally prefer the former and that's what you'll hear each and every Saturday and Sunday Afternoon or Evening depending on where you live. My program airs on Saturday and Sunday afternoons at 3 PM PDT...

A "Whole 'Nuther Thing" is kind of like hanging out with a friend and dusting off and listening to some tunes you haven't heard in a long long time or perhaps not at all. Saturdays, From 3 - 7 PM on 88.5 HD2 I draw upon the wide range of musical formats spanning 75 years and I create all inclusive thematic or musically synergistic sets. It's "Music Without Boundaries". Sundays from 3 - 5 PM on 88.5 FM it's an entirely different show with the same format.

Although our broadcast signal is limited to Southern California, we stream our broadcasts on the Internet and can be accessed with the following links:
Beginning in April 2011, "Whole 'Nuther Thing" has been featured on Radio That Doesn't Suck.com, one of the leading web radio stations in the world. Whole 'Nuther Thing is broadcast twice each Monday in HD Quality Sound at 9AM and 3PM Eastern, 6AM, 12 Noon Pacific



Special to the Register
COLLEGE RADIO
Scanning the radio dial for a break from mainstream talk radio? College radio stations offer some alternatives....KSBR/88.5 FM is Saddleback College's station and emphasizes jazz, but its community-service programming includes specialty shows featuring hip-hop, reggae, folk and blues. Its 600-watt signal reaches as far as Norwalk to the north and Oceanside to the south. One of its best programs is Bob Goodman's 3 p.m. Saturday show, "It's a Whole 'Nuther Thing," which Goodman describes as "hanging out with a friend and dusting off and listening to some tunes you haven't heard in a long, long time or perhaps not at all." The show celebrates its 100th episode April 29 with a A-Z program featuring music ranging from Brian Augerto Frank Zappa. KSBR's annual Birthday Bash is May 24 at Mission San Juan Capistrano.
The Web site is www.ksbr.net.

6/1/07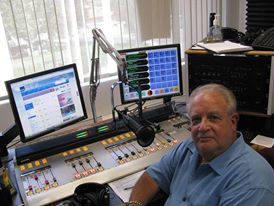 Jersey Guy. Bob Goodman gets to play whatever he wants every Saturday afternoon at KSBR (88.5/fm). Tomorrow at 5 p.m. Bob plays an hour of Frankie Valli and the Four Seasons. Bob works in consumer electronics, but has never forgotten that dream he gave up 30 years ago. "Getting out of radio is the thing I lament the most. I'm really sorry I didn't stick with it," he said by phone yesterday afternoon.
"I've been a radio fanatic all my life," Bob continued. His radio dream story is familiar. He would hide his transistor radio under his pillow and when he went to bed he would DX far off stations. He was living in New York City and of all the stations he picked up, WKBW-Buffalo was his favorite.
While attending Hunter College in New York in the early 1970s he ran the campus station. After working for a couple of stations on Long Island, he answered an ad that he discovered in Job Leads, a stapled flyer that listed available radio jobs from around the country. Growing up in the cold of New York, California sounded good. Bob took his new bride to a station in Lakeport, California. Where? Well, it is near Ukiah, a town of 1,000 that swells to 10,000 in the summer. "I was just excited about going to California and pursuing my radio career. I was sales manager and on-air guy. The job lasted three days. I'd go back to the hotel where we were staying and my wife was crying her eyes out."
Bob packed up and headed for L.A. to stay with friends and worked in a boiler room selling ink toner. "The guy next to me was the program director of K-SURF in Santa Monica. He said he needed an overnight guy to run the automation and read news headlines every half hour. 'K-SURF by the sea – 103." A brief return to the East and a weekend job at WYSP-Philadelphia, the station was AOR broadcasting in Quad Stereo. "We were the Quad Father."
That was the end of his radio dream for the next quarter of a century until six years ago. "KSBR is my local station in south Orange Country. I went back to school and got a weekend show at KSBR. They've given me all the freedom to play what I want."
Tomorrow, Bob Goodman wants to play the Four Seasons. And he will. If you can't get the radio station, the program is streamed at:
//www.jazz885.org & 885fm.org

Past shows are now available for download and listening:
//bobksbr.podomatic.com
//www.mixcloud.com