Click on Image to Listen To Past Shows

My noble attempt at putting down my thoughts and feelings about the music and other bits of life I experience daily. I will have a regular feature called "Earworm Of The Day" which is my suggestion of music you should sample from the past, present or perhaps the future. Simply Click on Any Album Cover for a Taste.
May 11th, 2013

Today's show featured an in studio visit with John Batdorf and James Lee Stanley who showcased their brand new CD, "All Wood & Stones II".


May 4, 2013

Today's show featured the seminal group of the Country Rock genre, Buffalo Springfield. Additional tunage from Steve Miller Band, Elvin Bishop, Little Feat, America, Hall & Oates, Al Stewart, Bob Welch, Neil Young, John Krogman, Dawes, Jayhawks, Tom Petty, Jefferson Airplane, Crosby Stills Nash & Young, Rolling Stones, MC5, Simon & Garfunkel, Ellen Mcilwaine, Beatles and John Batdorf and James Lee Stanley.
May 2, 2013
Thursday Night we were at The Coach House for the dazzling fretwork of the California Guitar Trio. The California Guitar consists of Paul Richards, Bert Lams and Hideyo Moriva they met at a 1987 Guitar Craft course in which Robert Fripp (formerly of King Crimson) instructed them in the New Standard Tuning (NST) After completing several of Fripp's Guitar Craft courses the trio toured as part of Robert Fripp & The League of Crafty Guitarists. I'd been anxious to see them perform since I first heard them over 10 years ago. They did not disappoint and completed a 90 minute set that included a nice balance of covers and original material. Particularly enthralling was their rendition of Pink Floyd's "Echoes".


WRITTEN BY RTDS
"Whole 'Nuther Thing" with host Bob Goodman Fridays at 9 am & 3 pm ET!!
Bob Goodman is a NYC native living in Southern California. He started his broadcast career during the Golden Age of FM and continues to share his passion for great tunes with Whole 'Nuther Thing as his vehicle..
I was born to share my passion and knowledge of music and spin records. I've had 2 distinct broadcasting careers with a 20 year break in between. I've been a student of Radio Broadcasting since I was old enough to carry around a Transistor Radio in my pocket and often went to sleep with an earphone stuck in one of my ears decades before Ipods made it fashionable. My on air career started with the Campus Radio Station of Hunter College in NYC where I was elected General Manager and later the Coordinating Director of Network Programming and co- founder of the City University Radio Network. My professional career began on the East End of Long Island, NY at WRCN AM & FM where I eventually became Music Director. I then moved to California with a stop doing overnights at KSRF FM in Santa Monica. Eventually I moved back to Long Island and worked at WLIX AM in Islip. My last on air gig before taking a break was with The Quadfather WYSP FM in Philadelphia, I did weekend mornings. I left because the consultants were slowly removing any artistic freedom we had picking our own music and sharing it with our audience.
Approximately 11 years ago I made a decision to return to my first love, at least on a part time basis, Radio. Being a listener of the local college Radio Station KSBR FM, I enrolled in Saddleback College in Mission Viejo and proceeded to take some Communications and Broadcast related courses with the intent of earning an air shift on the station. In January 2001 I was given my first air shift on KSBR on Friday evenings from 6 till 9PM. I eventually moved to Saturdays and started the concept of "Whole 'Nuther Thing", essentially a mosaic of music without any boundaries and the only criteria being it must be good. With my knowledge of and passion for music of all genres, it was easy for me to put together music from disparate artists and blend them into cohesive and flowing sets. Unlike my first career, I now have the luxury of painting from a palette of 75 plus years. If you have a favorite "Lost Song" there is a good chance you will hear it during Whole 'Nuther Thing. If not, then contact me and I will get it on for you. As Duke Ellington once remarked "There's Only 2 Kinds of Music, Good Music and Bad Music" I prefer the former.

Saturday 3/27/10

My Special In Studio Guest Laurence Juber, recently named Fingerstyle Guitar Player of The Year by fans of Fingerstyle Guitar Magazine. Laurence was the Lead Guitist for Paul McCartney's Wings 1978 - 1981.
He's also played with and produced Al Stewart among others.
Laurence played quite a few tunes from his latest CD Release "Wooden Horses" as well as tunes from his other 15 CD's. One Listener remarked he was like "Leo Kotke on Steroids". After the appearance on Whole 'Nuther Thing he performed as the showcase artist for the Lord of Strings Concert series in Mission Viejo. He was even better the second time around in his "native surroundings".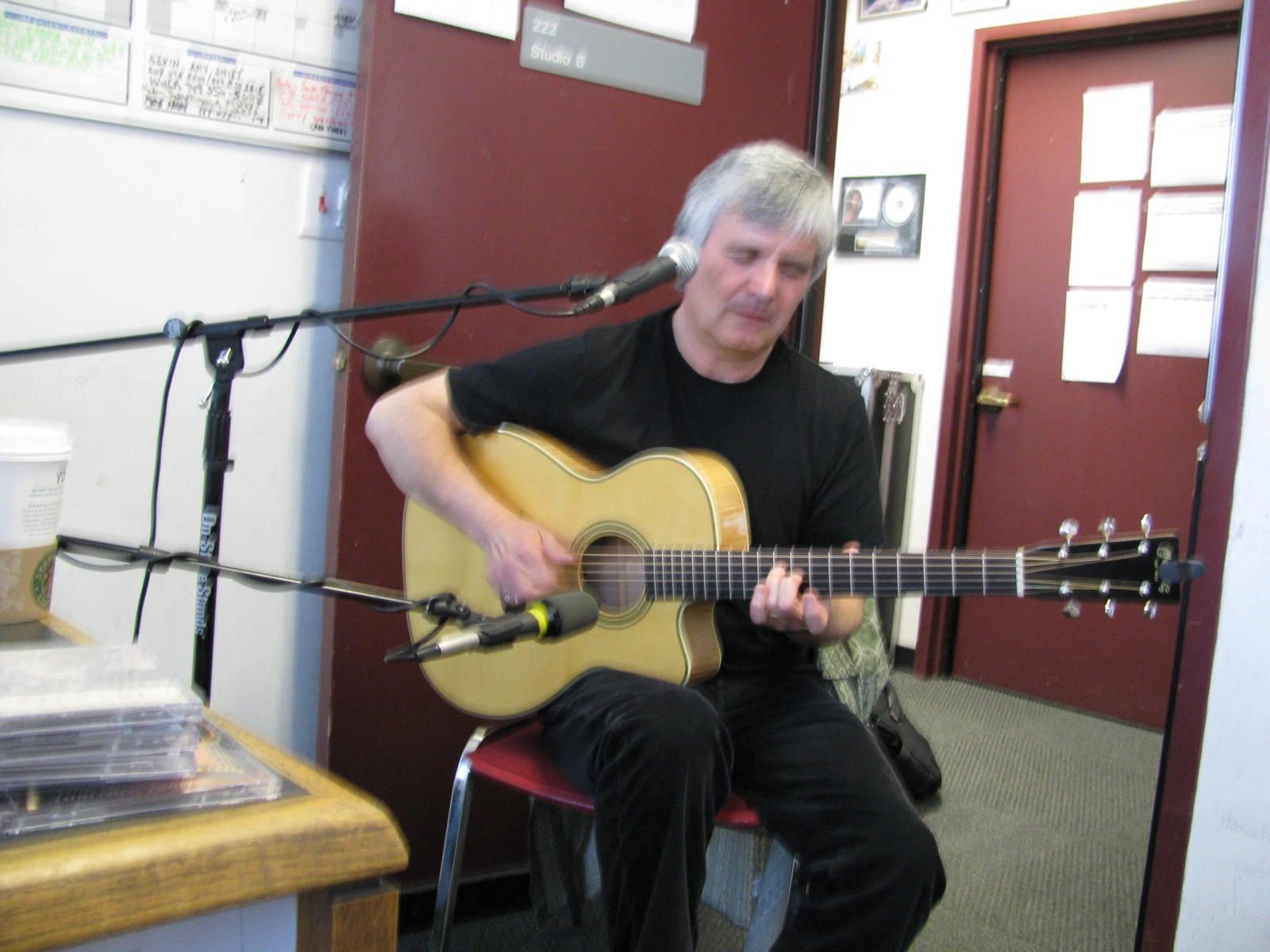 Laurence plays with such passion for each individual tune.
Sorry for the poor photography, new camera.


After the performance, Bob and Laurence outside the studio.



Saturday 6/27
"Pick To Click"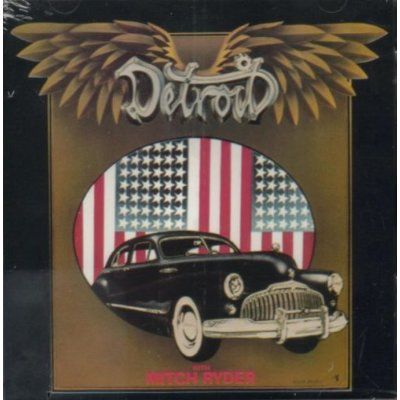 Mitch Ryders Detroit featuring the definitive version of Lou Reed's Rock & Roll. This record, released in 1971 was largely ignored but was one of the first seeds of "Hard Rock". It stands up there with Motown, the Stooges, MC5 and the Corvette & Mustang as one of the Motor City's great products.


Last night I went to The Coach House to see Mitch Ryder and The Detroit Wheels. Unlike other products of the "Motor City" no bailout is necessary for Mitch and his new "Wheels". They started the 90 minute set with an "ass kicking" version of Rock & Roll and never looked back. Mitch is the consumate pro and knows how to connect with an audience, the new band is tight and talented with every member getting an opportunity to stretch out and solo. He signed copies of his live CD after the show. This morning I am putting some music together for this afternoons show, my in-studio guest is Martin Gerschwitz, keyboard player and lead vocalist for Iron Butterfly.

Friday 6/26
"Pick To Click"



I can't tell you that it's one of my favorites, haven't listened to it since it's original release. I bought this LP for my kids although I did enjoy some of the tunes and do recognize what a milestone it was in Pop Music. Michael, like many of his musical contemporaries and countless others before him was flawed and ultimately unable to exorcise his demons.
Wednesday 6/24
"Pick To Click"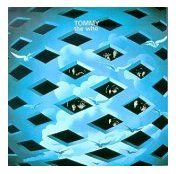 40 years have passed since the release of the first Rock Opera "Tommy" by The Who, it has been a mainstay on my list of Top Albums of all time. After all these years I can still listen to it in it's entirety and smile because of the places it takes me. I saw them perform this live at The Westchester County Center in NY in 1969. Tommy, spawned a stage production and a motion picture and the anthemic "Were Not Gonna Take It" was a highlight of The Woodstock Festival and subsequent "Woodstock The Movie".
Friday 6/19

"Pick To Click"
If you haven't watched this film recently or listened to some of the "raw" performances, then do yourself a favor. This festival featured breakthrough performances from Janis Joplin, Otis Redding and Jimi Hendrix. Janis's performance was so spellbinding during the first day the promoters had her and Big Brother do another set so they could film it. Otis Redding, emerging as the next big thing in "Soul Music" was largely unknown to the white audience and Jimi had just returned from a year in England where he formed "The Experience" and gained noteriety for his skills with a Strat. Tragically, all three died before their 30th birthdays.
This week in 1967 The Monterey International Pop Festival, largely the brainchild of Lou Adler and John Phillips, punctuated what was to become known as the "Summer of Love". To some, it heralded the beginning of a new social order. To others, it signaled the end of the innocence. I believe The Monterey Pop Festival was the former and Woodstock the latter.
Tuesday 6/16
Ever have a product you use become unavailable, a restaurant you love close, or that convenient shop with caring knowledgeable people disappear, then you'll love this track - "Going Going Gone" from Al Kooper who has to be the most underrated artist in contemporary music history. Al has played with or wrote songs for just about everyone and rivals Leon Russell as a perfect "Six Degrees of Separation" example.

Monday 6/15
"Pick To Click"



Yesterday, I discovered Shawn Mullins live from Variety Playhouse in Atlanta on Direct TV's Channel 101. Shawn and his band played a really tight set that at times had a Neil Young & Crazy Horse feel to it, it will be repeated on Wednesday June 17 at 2PM PDT. I recommend it highly and here's a tune from his most recent effort.

Sunday 6/14
"Pick To Click"
I spent an amazing 2 hours with a musician I've always admired, John Batdorf. John was kind enough to stop by and be an in studio guest for yesterday's "Whole 'Nuther Thing". We discussed his 4 decade career and his brand new CD
"Old Man Dreamin' "
But the highlight of the afternoon was John and his Martin playing live in the studio, his playing and singing were absolutely flawless and there were many "Oh Wow" moments. When he played "Let Me Go" I closed my eyes and thought it was the record as I waited for John's former musical partner Mark Rodney to play his parts. The new CD is fabulous and we gave away 4 copies that John was gracious enough to sign, making them instant collectors items. We received phone calls and e-mails from NYC, Oklahoma, San Jose, Washington D.C., Tennessee, Orange County, LA to name a few. John was truly down to earth and deserves to be heard by a larger audience. If you visit his
web site
you can sample and buy the new CD as well as his other collaborative efforts.
Me and John On Air KSBR 88.5 FM 6/13/09
Bill Batstone, John Batdorf and Me At KSBR Studios 6/13/09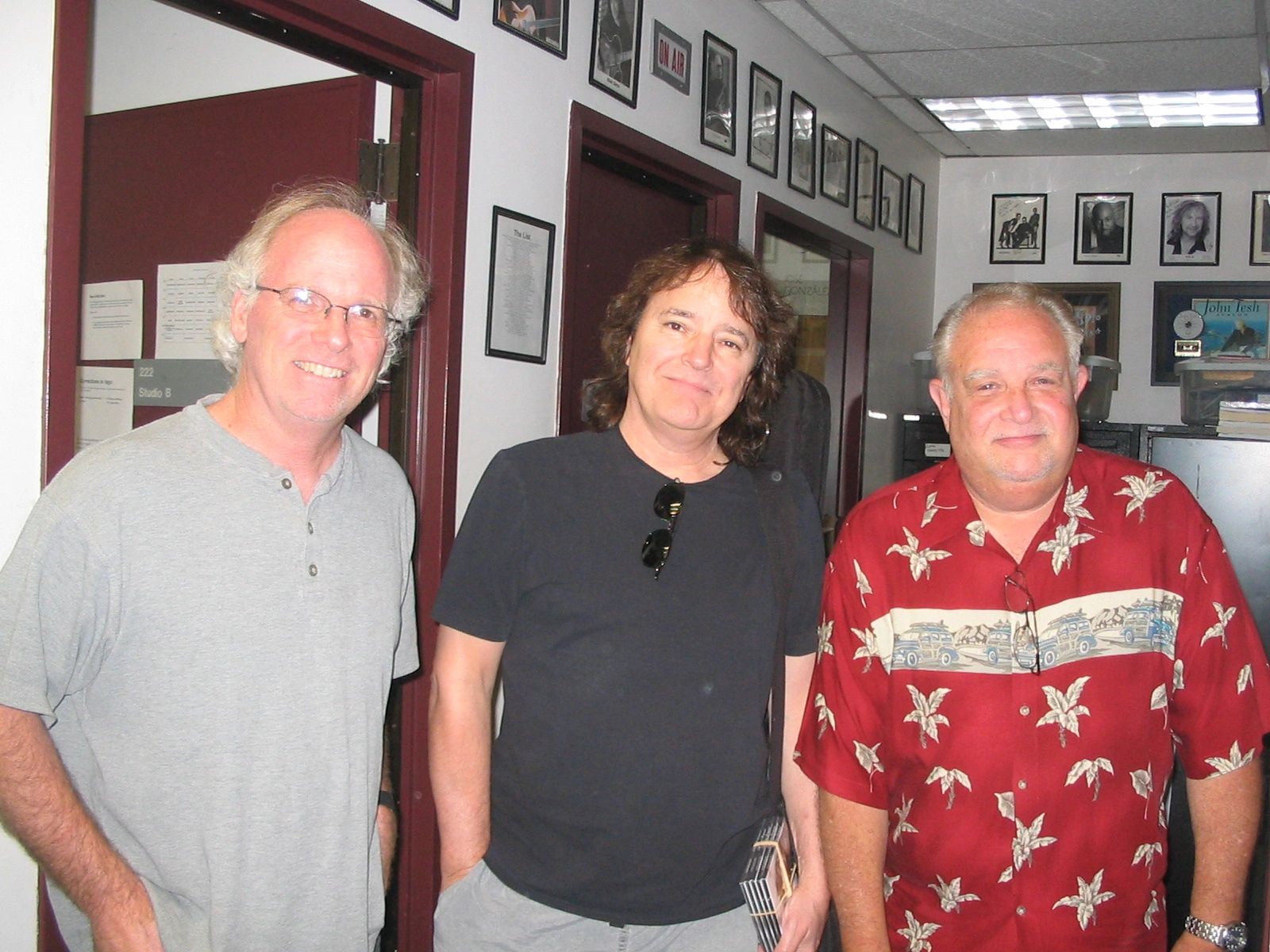 Joining John during our visit was long time collaborator
Bill Batstone
who played Bass and sang backup vocals on the new CD. My beautiful but "Shy" Lady Es was there to produce the show and help with phone calls.
Wow what a "Perfect Day"!

Thursday 6/11
Last night was another episode of Spectacle with Lou Reed as Elvis's guest. Wow! they were great together and performed "Perfect Day" from Lou's great "Transformer LP. I've set Spectacle up as a "season pass" so I don't miss any shows. I'm relieved that it has been renewed for another year on Sundance. I just don't understand why we have so many "Music" channels (10 MTV's, 5 VH1's etc and it takes a "Movie channel to bring this into our living rooms.

Wednesday 6/10
"Pick To Click"
Last night I watched Oliver Stones "The Doors" and thought how frustrated Ray, Robbie and John must have felt. Here were 3 talented musicians who were burdened with playing backup in this nightly "Theater of The Absurd". Jim's antics which drew attention to the band, ultimately, became a distraction. Jim in his later years reminded me of another self destructive soul, Lenny Bruce.


Tuesday 6/09
"Pick To Click"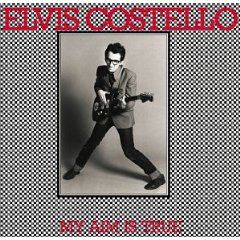 Finishing up my website, ha, there's no such thing as "finishing your website". Last night I watched a past episode of my newly discovered gem "Spectacle" on Sundance Channel. It's hosted by Elvis Costello who has proven to be a truly engaging and entertaining host to many of Music's giants. Last night's show featured The Police with interview segments of each member. I found Steart Copeland to be very funny and self deprecating. Elvis and the boys jammed on a few tunes including "Sunshine of Your Love" to close things out. Then I turned my attention to Season premiere of "Weeds" and Series Premiere of "Nurse Jackie", I find it ironic that both shows contain drug usage themes.
Friday 6/05/09
"Pick To Click"

The first Blood Sweat & Tears LP and only recording with Al Kooper as member. Al, who was founding member, was summarily ousted from group after this record was released. Upon his departure, the group turned to more pop oriented material and lost it's "soul".
I've chosen one of my favorite tunes "The Modern Adventures of Plato, Diogenes and Freud" for you to taste.
Thursday 6/04/09
I've been reading Barney Hoskyns "Waiting For The Sun" a recounting of the music business in Los Angeles. It's particularly interesting to me because I grew up in NYC which until the 1960's was "The Music Business" and I was immersed in it's culture from R&B to Doo Wop to Salsa to Folk. I grew up walking distance to both the East and West Village. The West Village was known as Greenwich Village and spawned the "Beat Generation" of Jack Kerouac. It's many offbeat coffehouses were typically in dark cellars that were made even less hospitable by the thick air of cigarette and pipe smoke. It's here that I discovered the music of The Lovin' Spoonful, Blues Magoos and many others. I'm now learning why their was a huge migration of "folkies" to the West Coast as evidenced in The Mamas & Papas "Creeque Alley"
Saturday 02/27/10

John Batdorf made a return appearance to Whole 'Nuther Thing and brought with him long time collaborator, Bill Batstone to add Bass and Background Vocals. John played quite a few tunes from his latest CD release Old Man Dreamin' as wellas quite a few from All Wood & Stones. Bill added a few of his own compositions.  It was a splendid afternoon of great tunes and playing. Thanks to KSBR's own Gary Bergerson for setting up the sound mix, it was excellent. Visit the My Pod page to listen to the entire Broadcast.

Saturday 11/07/09



Special In Studio appearance from Aztec Two Step who rarely play the West Coast. Rex fowler and Neal Shulman with long time collaborator Fred Holman in KSBR's Studio B. The guys played tunes from their latest CD "Days of Horses" and Their critically acclaimed Simon & Garfunkel Songbook "Time It Was".

Bob and Aztec Two Step after the performance on Whole 'Nuther Thing.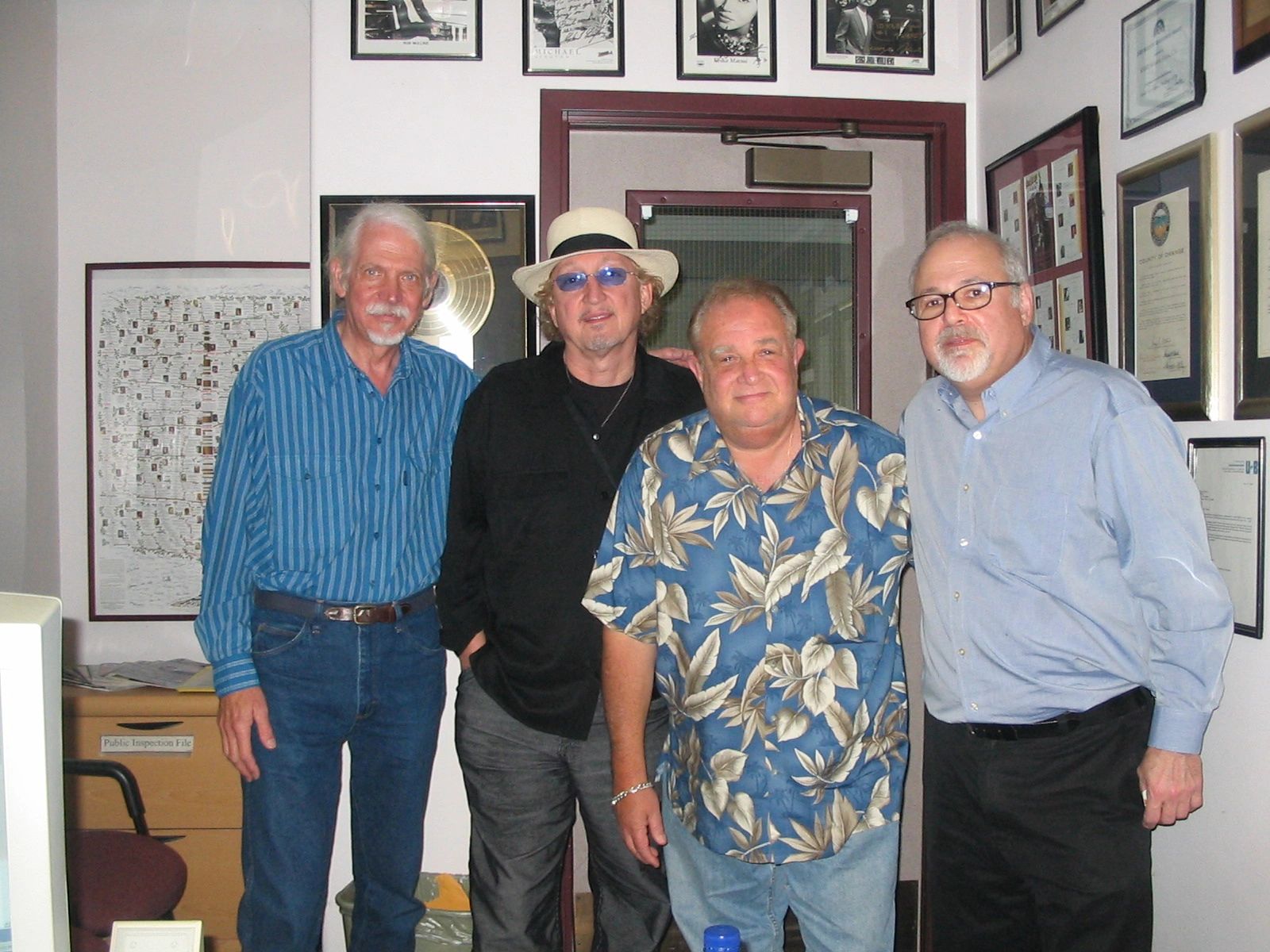 Live from Studio B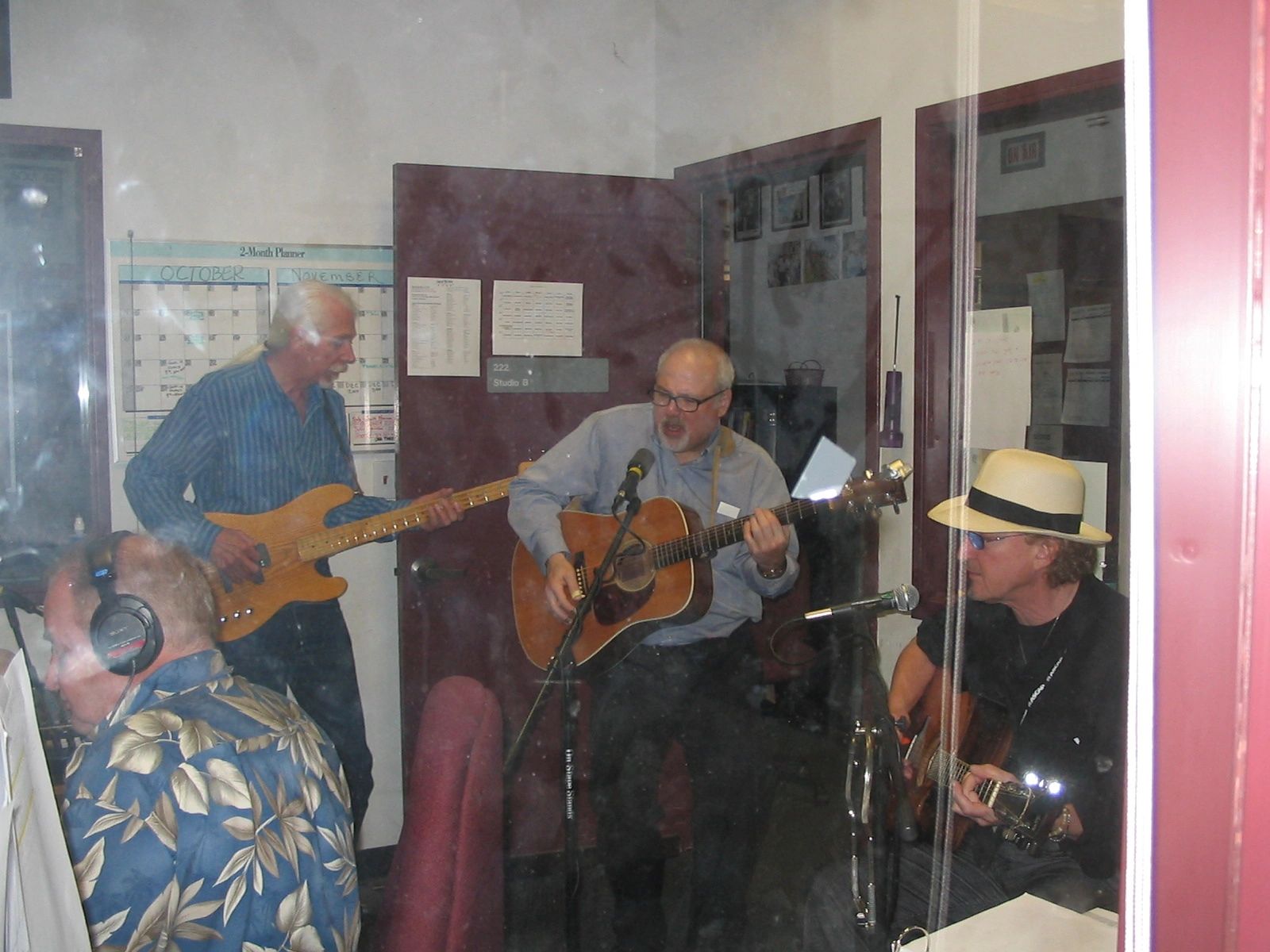 Promotional Flyer with Aztec Two Steps Scheduled Appearances for the Weekend.