Saturday 5/11/13 All Wood and Stones Live From Studio B
It was an incredible afternoon of Acoustic Music with 2 artists that define the genre, John Batdorf and James Lee Stanley. The 90 minute segment literally flew by as John and James showcased their brand new CD, All Wood and Stones II as well as their first All Wood and Stones CD. John and James have taken songs from the Rolling Stones songbook and made them their own, almost effortlessly peeling off the layers to reveal the delicacy of each song. Their live playing and singing complement each other and creates an aural splendor. They're also 2 of the most professional and grounded performers I've ever met.
Saturday 10/08/11         Shadow Morton Live From Studio B     

Legendary Producer, Songwriter and Discoverer of talent, George "Shadow" Morton made a rare live appearance in Studio B  for only his 3rd interview in over 40 years. We spent an enjoyable afternoon listening to the records he produced and wrote songs for while discussing his successful career working with Vanilla Fudge, The Shangri-Las, Janis Ian, Iron Butterfly, The Vagrants,  NY Dolls and more.  Shadow's legacy began in the 1960's,  learning the business at  the World Famous Brill Building in NYC.  "Shadow" proved to be an extremely entertaining guest with lots of unpublished stories, inside info and anecdotes. We could have continued for another 2 hours, perhaps a future part 2.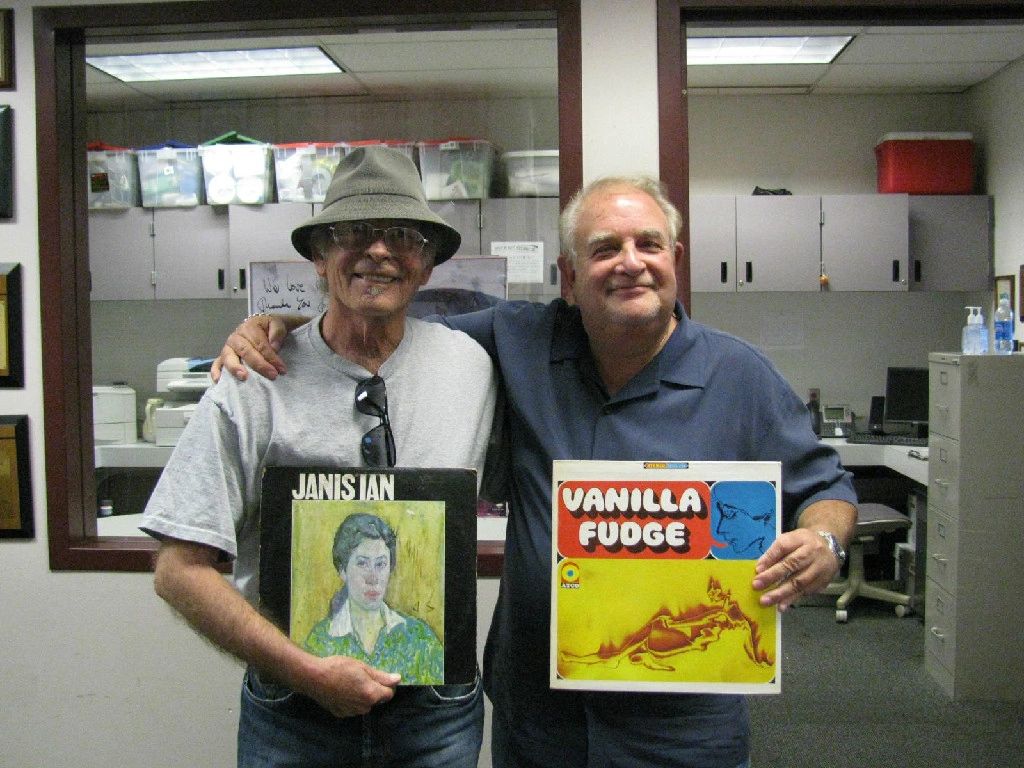 Here we are holding up two of his most successfull projects, the debut LP's of Janis Ian and Vanilla Fudge.
Saturday 6/04/11 Brian Auger Live From Studio B
I spent an entertaining and fun 3 hours with a musical legend, Brian Auger. Brian was kind enough to stop by and be an in studio guest for an episode of "Whole 'Nuther Thing". Brian proved to be incredibly gracious and a marvelous storyteller. In between many tunes from different stages of his career, he regaled us with his experiences as a band member and band leader in a career that spans 6 decades. Brian is considered one of the principal architects of Jazz and Rock Fusion. During his career he has connected with a veritable who's who in Music history and continues to tour extensively in the US and Europe. His latest iteration of Oblivion Express now includes his Daughter Savannah Grace on Vocals and his Son Karma on Drums as well as producing. Brian of course continues to take the Hammond B3 to new heights. In addition we gave away 2 pairs of tickets to his upcoming performance at The Coach House as well as 3 Signed CD's. As always, my in studio producer was Es Goodman.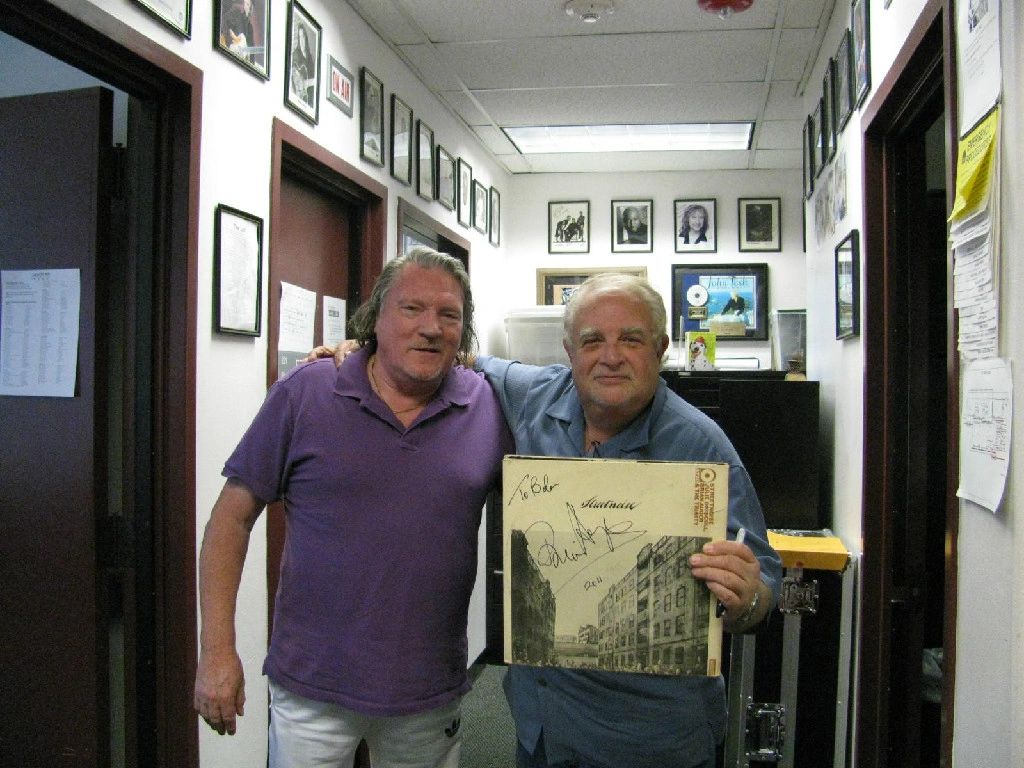 Brian and Bob outside "Studio B"
Saturday 4/09/11                Phil Leavitt Live From Studio B
I spent an enjoyable 2 hours with one of my favorite Drummers, Phil Leavitt of "dada the band".  Phil was kind enough to stop by and be an in studio guest for  an episode of  "Whole 'Nuther Thing". We discussed Phils solo career and of course the LA based band dada. In addition to cuts from dada's five studio albums, we also debuted a few  tracks from Phil and Joie Calio's new project together. This was in advance of what has become an almost annual event dada at The Coach House on Saturday April 16th.
We gave away tickets to the upcoming concert at The Coach House and announced to the world that dada would be the performing artists on New Years Eve 2011. My in studio producer was Es Goodman.



 Phil and Bob outside "Studio B"

Saturday 3/27/10 Laurence Juber Live From Studio B

My Special In Studio Guest Laurence Juber, recently named Fingerstyle Guitar Player of The Year by fans of Fingerstyle Guitar Magazine. Laurence was the Lead Guitist for Paul McCartney's Wings 1978 - 1981.
He's also played with and produced Al Stewart among others. Laurence played quite a few tunes from his latest CD Release "Wooden Horses" as well as tunes from his other 15 CD's. One Listener remarked he was like "Leo Kotke on Steroids". After the appearance on Whole 'Nuther Thing he performed as the showcase artist for the Lord of Strings Concert series in Mission Viejo. He was even better the second time around in his "native surroundings". Recording of this performance is available on MY Pod page on this site.


Laurence plays with such passion for each individual tune.
Sorry for the poor photography, new camera.


After the performance, Bob and Laurence outside the studio.





After Performance, Bob with Laurence and his wife Hope.

Saturday 02/27/10 John Batdorf and Bill Batstone Live From Studio B

John Batdorf made a return appearance to Whole 'Nuther Thing and brought with him long time collaborator, Bill Batstone to add Bass and Background Vocals. John played quite a few tunes from his latest CD release Old Man Dreamin' as wellas quite a few from All Wood & Stones. Bill added a few of his own compositions. It was a splendid afternoon of great tunes and playing. Thanks to KSBR's own Gary Bergerson for setting up the sound mix, it was excellent. Visit the My Pod page to listen to the entire Broadcast.



John cajoling one last note from "His Favorite Martin"



John discussing his career with Bob as Bill listens in.


John and Bill playing with fervor.

Saturday 11/07/09            Aztec Two Step Live From Studio B

Special In Studio appearance from Aztec Two Step who rarely play the West Coast. Rex fowler and Neal Shulman with long time collaborator Fred Holman in KSBR's Studio B. The guys played tunes from their latest CD "Days of Horses" and Their critically acclaimed Simon & Garfunkel Songbook "Time It Was". Neal Shulman and Bob discovered they went to same Junior High School and High School in NYC at same time.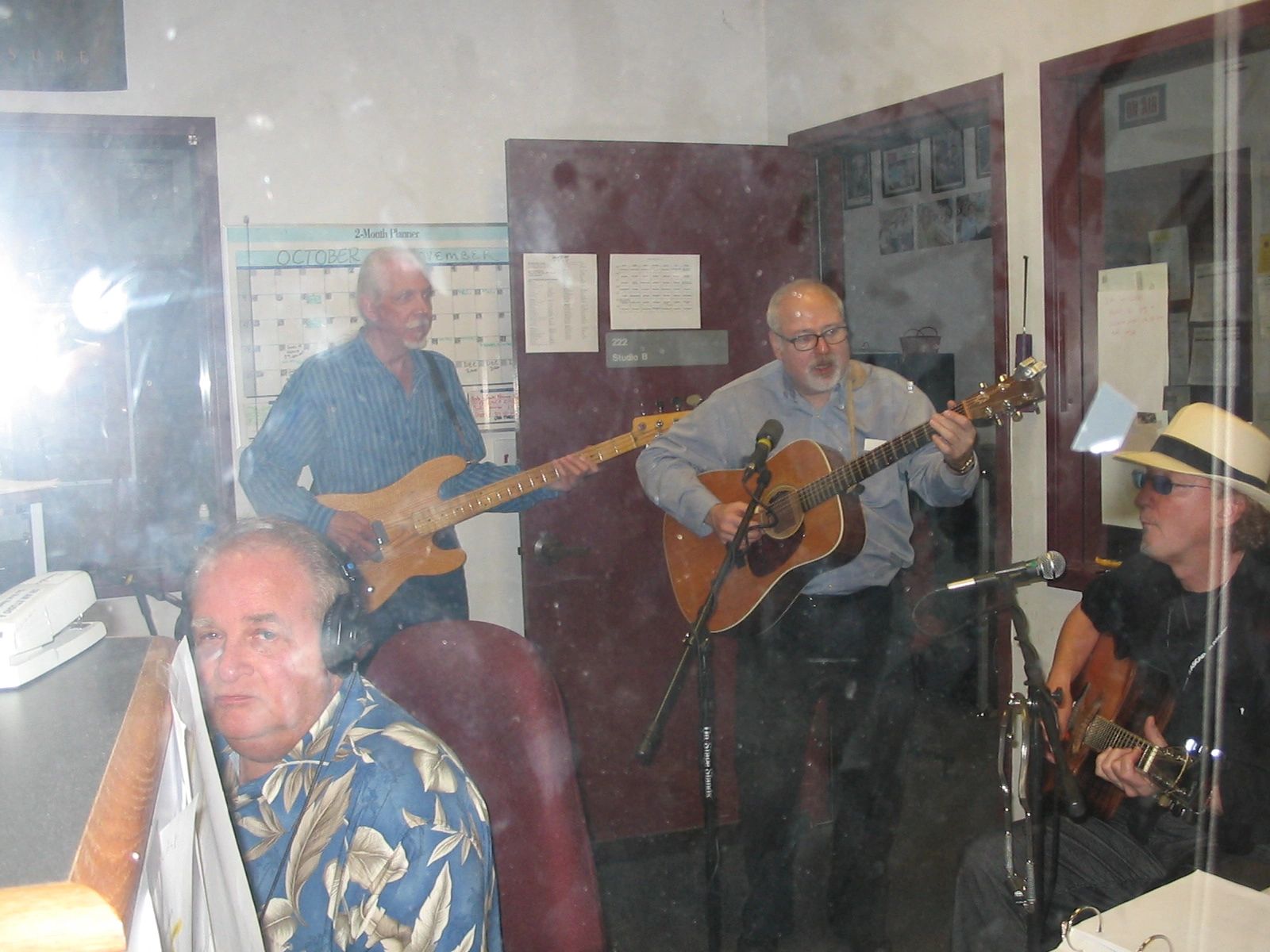 Bob and Aztec Two Step after the performance on Whole 'Nuther Thing.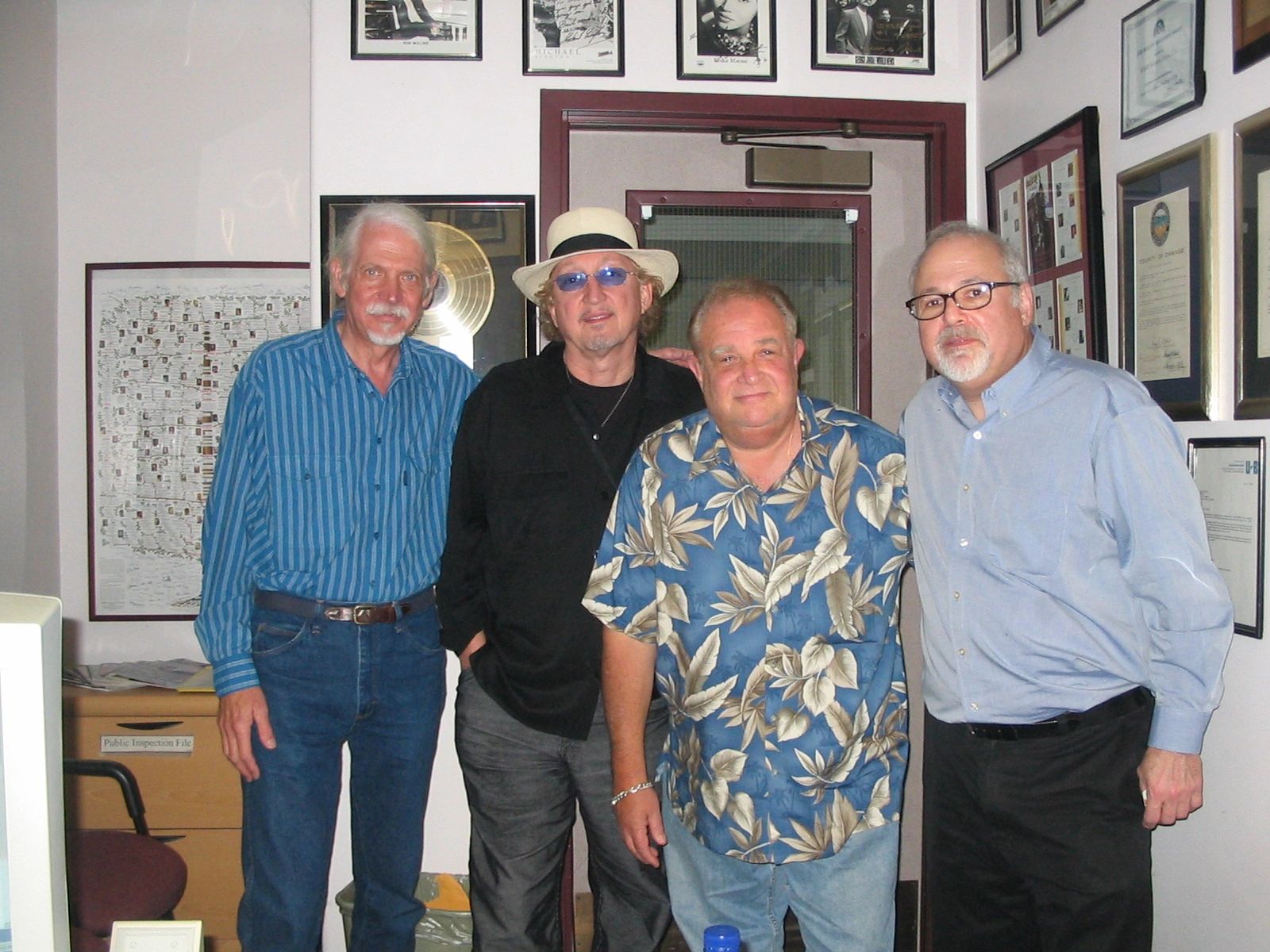 Fred Holman, Rex Fowler, Bob Goodman & Neal Shulman

Live from Studio B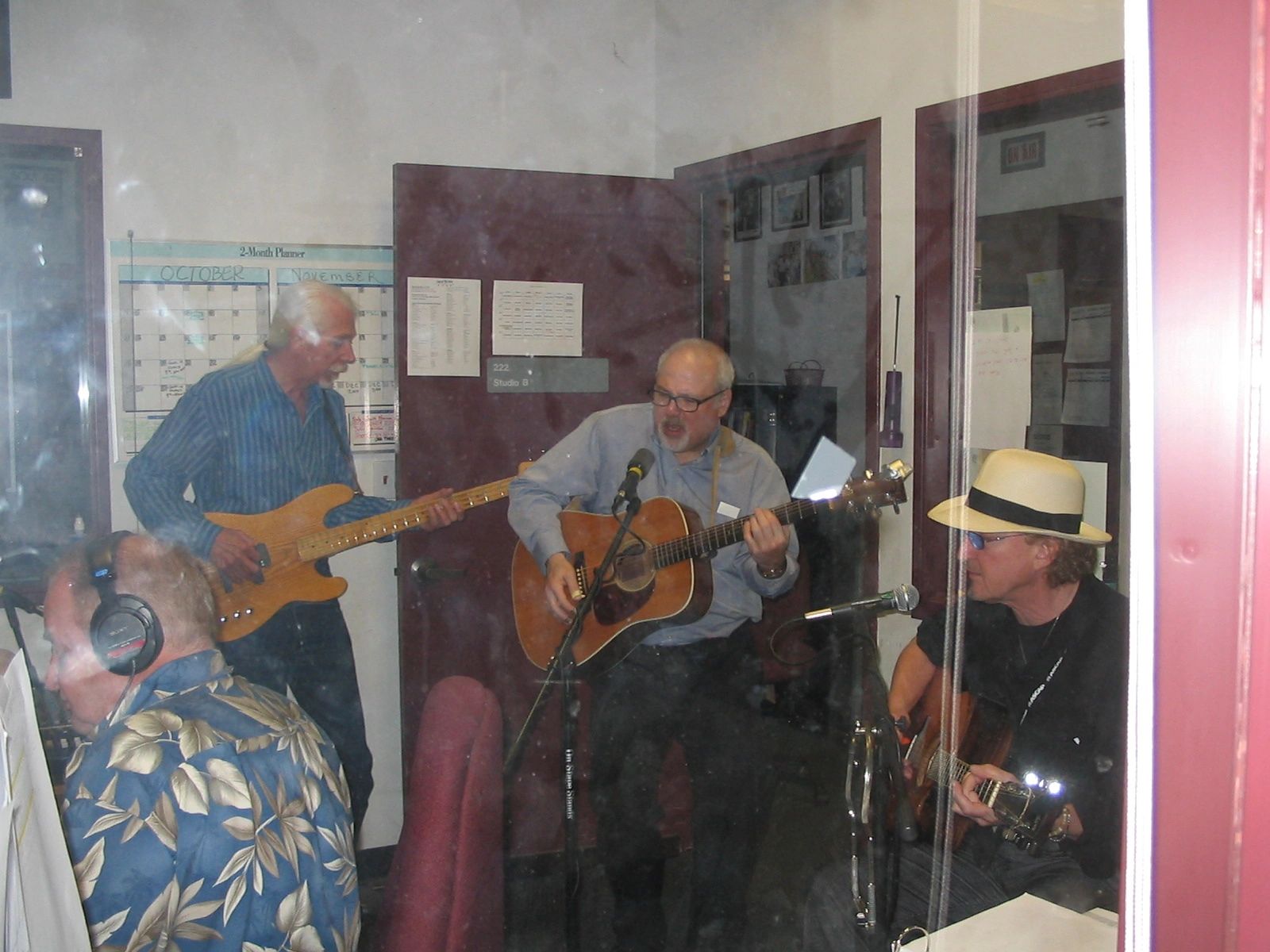 Promotional Flyer with Aztec Two Steps Scheduled Appearances for the Weekend.


Saturday 6/13/09 John Batdorf Live From Studio B
I spent an amazing 2 hours with a musician I've always admired, John Batdorf. John was kind enough to stop by and be an in studio guest for yesterday's "Whole 'Nuther Thing". We discussed his 4 decade career and his brand new CD "Old Man Dreamin' " But the highlight of the afternoon was John and his Martin playing live in the studio, his playing and singing were absolutely flawless and there were many "Oh Wow" moments. When he played "Let Me Go" I closed my eyes and thought it was the record as I waited for John's former musical partner Mark Rodney to play his parts. The new CD is fabulous and we gave away 4 copies that John was gracious enough to sign, making them instant collectors items. We received phone calls and e-mails from NYC, Oklahoma, San Jose, Washington D.C., Tennessee, Orange County, LA to name a few. John was truly down to earth and deserves to be heard by a larger audience. If you visit his web site you can sample and buy the new CD as well as his other collaborative efforts. This broadcast is available at the My Pod page on this site.

Me and John On Air KSBR 88.5 FM 6/13/09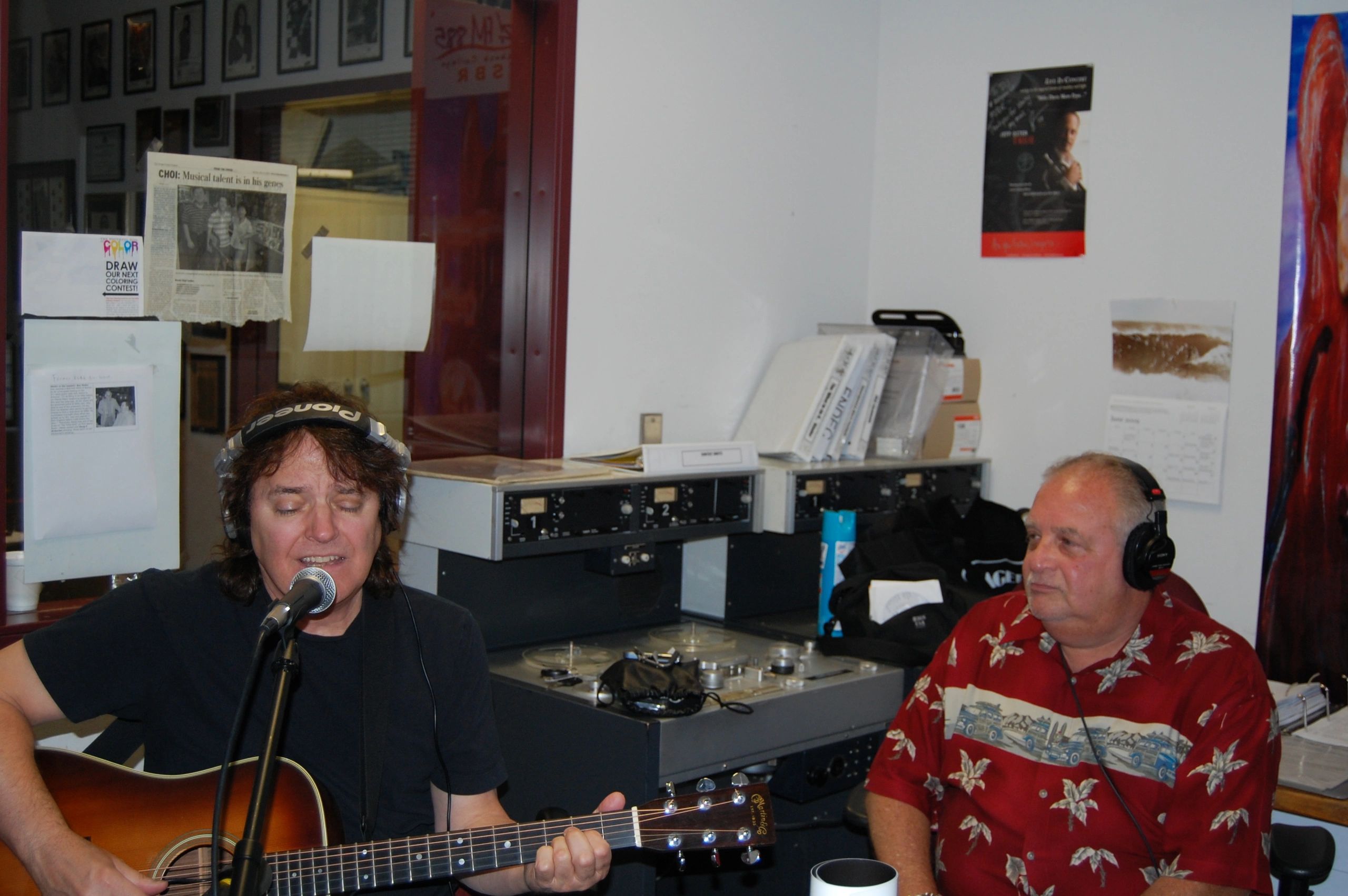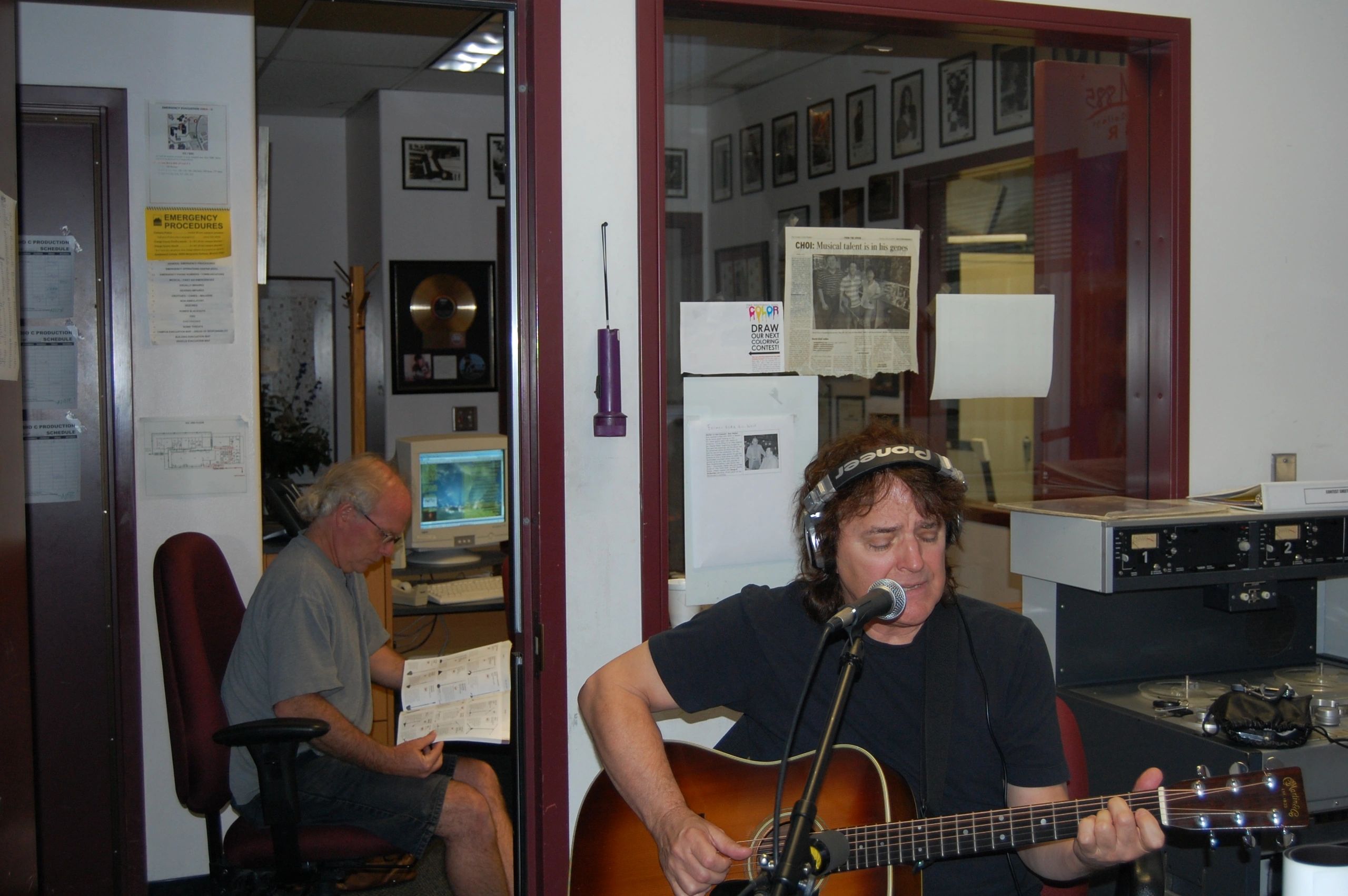 Bill Batstone, John Batdorf and Me At KSBR Studios 6/13/09

Joining John during our visit was long time collaborator Bill Batstone who played Bass and sang backup vocals on the new CD. My beautiful but "Shy" Lady Es was there to produce the show and help with phone calls.